"Otium et Delitiae, the culture of the body and the search for harmony..."

"One can rightly say that the "Bagni di Pisa" Spa brings relief to some, to many it brings back health that was lost, and it gives great joy to everyone, being so to say, the most beautiful vacation spot of Italy,"

by Cavalier S.B. , anonymous reporter on the customs of the people from Pisa in the 18th century.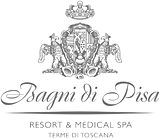 Once loved by the Etruscans and the ancient Romans, it became famous for the nobility all over Europe in 1743, when the Grand Duke of Tuscany, Francesco Stefano of Lorena, made it his own summmer spa residence, as well as a fashionable meeting place which had among its other importnt guests well-known people such as Gustav of Sweden, George IV of England, Vittorio Alfieri, Percy B. and Mary Shelley, Ibrahim Pascią, The Cardinal of York and Carlo Goldoni.

We committed ourselves to raise from its ashes a phoenix which appeared to be vanished forever. Our architects, interior decorators and designers knew how to interpret the philosophy of the STB group (our Wellness Spa Company) in the best way, giving back the soul to the walls of this historical abode, blooming again in all its splendor. Our personnel makes the picture perfect since you will be at the center of the most absolute exclusive attention in every moment, but always with discretion.

The setting of this jewel of well-being is art, history, Pisa, Lucca, nature and the Maritime Park of San Rossore and the social life of Versilia.

To walk in the footsteps of the illustrious guests among the arcades in terracotta embellished with citris fruit or to go along the wellness path to the Kafe' Haus for the view as far as the sea is an unforgettable unique experience.

In the rooms the view of the starry sky are blended in by the pastel colors of the frescoed vaulted ceilings from the 1700s, with hanging lofts with wooden floors to admire them better and be cradled by history. From the windows you can admire the Leaning Tower of Pisa. Rooms have retractable TV LCD which doesn't affect the atmosphere, adaptable air-conditioning for the desired temperature, marble and smooth crushed stone floors to relive history, bathrooms with two sinks, a shower and a separate bath tub.